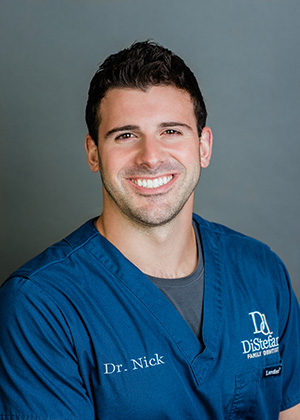 It could be said that Dr. Nick DiStefano was destined to become a dentist. Dr. Nick has been around dental drills and mouth mirrors most of his life being the son of Dr. John DiStefano. Growing up he would see his father help someone find relief from pain or give someone back the teeth they lost to be able to eat all their favorite foods again. He saw self-conscious patients, too embarrassed to smile, transformed by a new smile they couldn't wait to share. This had a lasting impact on Dr. Nick so he began his quest to become a doctor of dental medicine.
Dr. Nick earned his bachelor's degree at the University of Notre Dame, his dad's alma mater. And continued to follow his father's footsteps by earning his degree as a doctor of dental medicine from the University of Connecticut.
Born and bred right here, Dr. Nick graduated from Glastonbury High School and is now back in his hometown to join his father's Glastonbury dental office.
As a Glastonbury native he has a genuine understanding and passion for the needs of Glastonbury area families. "We know most people would rather not visit the dentist, so our #1 goal is to make your visit as comfortable and enjoyable as possible. We take time to get to know our patients, not just their mouth, these are our neighbors and we think of them of part of the family. For us, dentistry is all about family."
Dr. Nick is proud to boast that he is part of the best dental team in the greater Glastonbury/ Hartford area. Listening to the patient's concerns is very important to Dr. Nick and the entire DiStefano Family Dentistry team. His goal is to help you and your families make informed decisions about your oral health and support you as you accomplish your goals.
Dr. Nick is also dedicated in giving his patients the best that dentistry has to offer. With the science in the field of dentistry ever changing he stays up to date on the advancements of dental technology and treatments. He monitors the progress in his field and is dedicated to ongoing continuing education.
Dr. Nick has a special passion for helping the less fortune in need of dentistry that do not have access to care. He volunteers through dental mission trips to Guatemala and the Galapagos Islands, where he and his team treated local families with free dental care. Dr. Nick also volunteers right here at home at the Connecticut Mission of Mercy (CTMOM) in both oral surgery and restorative services.
When Dr. Nick is not hanging out with his patients, he loves traveling, going to the gym, and spending Sundays with the family, not to mention anything to do with the family alma mater, the University of Notre Dame.
Whether you are looking for a new dental home for all of your preventive needs, or are looking for help with discolored, chipped, cracked or crowded teeth, Dr. Nick enjoys being able to provide complete dentistry to your entire family.