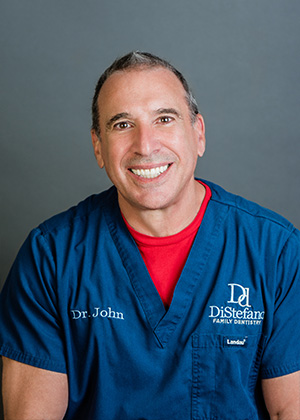 There's nothing quite like the importance of performing exceptional work, especially when you serve the community that has watched you grow up. That's been the case for Dr. John DiStefano as he has grown his Glastonbury dental practice in his hometown over the past 30 years.
Dr. DiStefano was born and raised in Glastonbury. He graduated from East Catholic High School and attended the University of Notre Dame where he received his Bachelor of Science before graduating from the University of Connecticut with his Doctor of Dental Medicine. Not wanting to uproot his family to move away from a community he loved, he has chosen to practice dentistry in Glastonbury ever since.
The family has always been Dr. DiStefano's first love, and he has made it a goal to treat his patients with that same level of respect and dedication. Every patient who walks through the doors of DiStefano Family Dentistry is immediately met with a relaxed environment and hometown hospitality and treated as a member of the DiStefano family.
"I love my office and my patients. They really are an extended family. I have my immediate family and then I have my dental family. I wouldn't trade this group for anybody in the world."
One of the ways Dr. DiStefano makes his patients feel more at ease is by consistently using his decades of experience and expertise to offer the most innovative dental care in Glastonbury. He is proud to offer CEREC, which is known as one of the most advanced forms of dental technology because of its ability to create computer designed crowns and same day dental restorations.. He also makes implant education a regular part of his routine. With 3D cone beam technology, Dr. DiStefano consistently offers the latest in precision tooth replacement.
"I invest in technology for the benefit of the patients. We've got the technology. Everybody should be using it. If you told me years ago that we'd be designing crowns with computers and milling them in the office or that we'd be able to take our own cat scan in the office, I'd think you were foolish. But to be able to offer that technology to our patients right now is absolutely terrific."
All of his expertise, experience and continued dedication to providing the most innovative forms of dental technology boils down to one core goal: To give Glastonbury patients like you a smile to be proud of while experiencing unique comfort in the dental chair.
When he's not in the DiStefano Family Dentistry office, or spending time with family, you can find Dr. DiStefano advancing his knowledge with other expert dentists and immersing himself in the latest the dental industry has to offer through his memberships with the International Dental Implant Association, American Dental Association, Connecticut State Dental Association, and the Hartford Dental Society.