Preventative Dentistry
Preventive Program
According to recent studies good oral hygiene is essential not only for your dental health, it is important to your overall health and well-being. Our comprehensive dental hygiene program is designed to preserve your teeth and the supporting structures by preventing the onset, progress, and recurrence of dental disease.
To maintain your optimal oral health we recommend periodic professional dental cleanings. Removing plaque and debris from teeth, especially from places where a toothbrush can't reach, like underneath the gum line and in-between teeth is extremely important.
It is also important to keep in mind that in conjunction with periodic dental professional cleanings, a good dental home care regimen is necessary. As part of the preventive program at this office your current home care practices will be reviewed. Following that, we will make recommendations as to what areas require improvements, and instruct you in the proper methods of brushing and flossing.
Additional preventive services may be indicated for individual patients. An integral part of our preventive program for pediatric patients includes periodic fluoride treatments and the application of dental sealants.
Dental Cleanings
A dental cleaning is a procedure done by a dentist or dental hygienist to get into hard to reach areas of the gums and teeth in order to remove bacteria and food debris. Dental cleanings should be scheduled at least once per year, so that patients can have plaque and tartar scraped off of their teeth. Plaque is a hard substance that adheres to the surface of a tooth. Too much plaque and tartar can cause gum disease and problems with teeth. A dentist has special tools that can remove this plaque and tartar so that teeth are fresh and clean again. Because plaque and tartar buildup happen on a daily basis, patients should still brush and floss regularly.
During a dental cleaning the dentist will get inside the hard to reach areas and clean out the spaces in between the gums and teeth. If the patient is suffering from gum disease or early gum disease, a deep cleaning, periodontal scaling or root planing may be administered. In this procedure, the dentist gets into the flaps of gum under the tooth and into the pockets where bacteria can hide. A patient with pockets deeper than 4 mm is usually recommended to have a root planing or scaling. Patients with periodontal disease may need to have more than one cleaning per year.
Oral Exams
Your first visit to our office is very important with regard to establishing your oral health baseline. We will begin by carefully reviewing your medical and dental histories and taking special note of all of your dental concerns, as well as any symptoms that you may be experiencing. This will be followed by a thorough clinical examination, including an oral cancer screening, periodontal evaluation, an analysis of your occlusion (bite) plus a thorough examination of your teeth, their supporting structures, and the complete orofacial area. Any needed diagnostic dental films will be taken at this time.
Oral Cancer Screening
Oral cancer accounts for 2.9% of all diagnosed cases of cancer in the United States. According to the American Cancer Society it is estimated that 51,000 people across the country will develop oral cancer this year and that 10,000 fatalities are expected from the disease.
Oral cancer can occur anywhere in the orofacial complex but is most often found on the tongue, the tonsils and oropharynx, the gums, floor of the mouth, lips, cheek lining or the hard palate. While the disease can affect anyone, men are twice as likely to develop oral cancer as women. Those particularly at risk for oral cancer are men over the age of 50 who are heavy smokers and frequently drink alcohol. Additional risk factors may include UV exposure from the sun or sunlamps, GERD (gastro-intestinal reflux disease), prior head and neck radiation treatment, exposure to certain chemicals and poor diet. While the death rate from oral cancer has been decreasing in the past several decades thanks to early detection and advanced methods of treatment improving the outcomes of care, there has been a recent rise in the incidence of oropharyngeal cancer due to increased transmission of the sexually transmitted human papillomavirus (HPV).
As part of a comprehensive exam, the dentist will perform a screening for oral cancer. To start, the dentist will review the patient's medical and dental histories and ask if there have been any changes to his or her oral health or overall health. The dentist will then carefully check in and around the oral cavity as well as the head and neck area for any of the following signs or symptoms that may indicate the presence of a problem
Sports Mouthguards
Every year millions of cases of dental and facial injuries occur as the result of sport-related trauma. While all sports have some risk of oral injury, it is especially prevalent in recreational activities that involve frequent body contact with other players or the ground, as well as the possibility of being struck by other objects such as, balls, bats, or sticks.
One way to significantly reduce the risk of damage to your teeth, cheeks, lips, tongue, face, or jaw as the result of a sports-related injury is to wear a mouthguard. A mouthguard is a removable appliance made of a sturdy plastic that sits comfortably over your teeth. Typically, mouthguards are designed to cover just the top teeth but may also be fabricated to include the lower teeth as well depending on your particular situation. Individuals who wear braces or have some types of dental work may require a specific type of mouthguard that provides more coverage.
There are three types of sports mouthguards on the market, including pre-formed and ready to wear stock mouthguards, boil and bite mouthguards, and custom mouthguards fabricated by your dentist. Our office will help you to select just the right sports mouthguard to protect your smile. While the first two choices offer some level of protection, the best and most comfortable mouthguards to safeguard your smile are the ones individually designed and customized by your dentist.
Fluoride Treatment
According to the National Institute of Dental and Craniofacial Research, tooth decay is the single most common chronic childhood disease. Over 50 percent of 5 to 9 year old children have at least one cavity or filling, with that proportion increasing to 78 percent among 17-year-olds. Additionally, more than 51 million school hours are lost each year to dental-related illness.
As an added level of protection against dental decay, it is recommended that children receive periodic fluoride treatments as part of a program of preventive dental care. Fluoride is a naturally occurring mineral that helps to prevent cavities by making the hard outer enamel of the teeth more resistant to the acids produced by the harmful sugar processing bacteria in dental plaque. It can also help to remineralize the teeth to reverse incipient decay.
During a periodic checkup visit, the dentist may recommend the application of a topical fluoride to help strengthen and protect both a child's baby teeth and the permanent ones. Topical fluorides can be applied as a foam, gel or varnish. Whatever type is selected, the procedure is quick and painless. Once the teeth are cleaned the fluoride is simply painted on the surfaces of the teeth or placed in a small tray to sit over the teeth for a brief period of time. Some types of fluoride treatment require no eating or drinking for half an hour as the fluoride is absorbed into the surface of the teeth. The dentist and dental hygienist will provide specific and detailed instructions as needed.
Fluoride treatment may also be indicated in adults who are at a higher risk for developing tooth decay.
Night Guards
Chronic jaw clenching and grinding one's teeth is called bruxism. While it can happen any time of day, it often occurs at night causing an individual to wake up with any number of symptoms including jaw pain, headaches, and sore teeth that may feel loose. Although, stress and anxiety are the most common causes of bruxism there may be other contributing factors such as a sleep disorder, an abnormal bite, as well as teeth that are missing or poorly aligned.
To alleviate the symptoms of bruxism, wearing a night guard while sleeping is frequently recommended. This appliance is designed to fit over the teeth and to keep the jaws slightly apart. Wearing a night guard prevents a number of damaging events, including muscle strain, excessive pressure on the jaw joint (the TMJ), and such dental damage as chipped or cracked teeth resulting from the teeth grinding against each other.
In addition to preventing damage to the soft and hard tissues surrounding the orofacial cavity, a custom night guard fabricated at the dental office can help curb a bruxism habit and give the wearer a better night's sleep.
Sealants
As part of your child's dental prevention program, dental sealants are often recommended to protect their permanent back teeth from developing dental decay. In fact according to the American Dental Association, dental sealants reduce the risk of cavities in molars by approximately 80%.
While establishing a good oral hygiene regimen, maintaining proper toothbrushing habits, and avoiding sticky sweets are essential for the prevention of dental decay, children's teeth often need more protection. The reason for this is that the deeply grooved chewing surfaces of the back permanent teeth can be difficult for a child to keep free of leftover food and cavity-causing bacteria. Moreover, young children do not always brush their teeth, as often or as thoroughly as they should, making them particularly vulnerable to dental decay.
Dental sealants afford additional protection from dental decay by providing a strong plastic-like protective coating for the chewing surfaces of a child's permanent back teeth. They basically fill in the pits, fissures and grooves on these teeth to seal out harmful bacteria and food particles. Beyond preventing the development of cavities, sealants may also be useful over areas of incipient dental decay to stop further damage from occurring.
Applying dental sealants is a relatively quick and painless process. They are simply brushed on in a series of steps during a child's dental visit and then cured (set) with a light wand. Sealants are strong and durable and can last for several years. The condition of your child's dental sealants will be evaluated at each checkup and reapplied if the need arises.
Pediatric Dentistry
Pediatric Dentistry
At our office, we take pride in creating and maintaining beautiful and healthy smiles for our younger patients in an environment that is lighthearted and fun. With an emphasis on establishing oral health habits that last a lifetime, we offer a comprehensive program of preventive care and closely monitor the dental health of our pediatric patients as they grow.
As an added level of protection to guard against childhood dental decay, we recommend periodic fluoride treatments and the application of dental sealants on the biting surfaces of the newly erupted permanent back teeth.
Cosmetic Dentistry
Bonding
In terms of repairing dental imperfections, masking of discolorations, or the closure of gaps between teeth, a dental bonding procedure is considered one of the most effective, economical, and quickest methods of care. Unlike porcelain veneers or ceramic crowns, which are necessary to conceal more significant defects, a dental bonding procedure is a minimally invasive way to transform a less-than-perfect tooth into one that appears flawless.
Bonding Procedures Restore The Look And Integrity Of Your Smile
We use the latest generations of dental materials and composite resins to perform bonding procedures that restore tooth structure lost to dental chips, or decay, as well as to conceal stains or discolorations, close gaps, and improve the look of misshapen or undersized teeth. Our skilled and experienced professional team combines the art and science of dentistry to achieve aesthetically pleasing, durable, and long-lasting results of care. Your new dental bonding will appear naturally beautiful so that you can feel confident sharing your smile with the world.
To find out more about how we can improve the look, health, and function of your smile with dental bonding procedures, or one of the many other restorative and cosmetic dental solutions that we provide, give us a call today.
Zoom! Whitening
If your teeth are stained, discolored or yellowed, you may benefit from a Zoom! teeth whitening procedure. As a leading choice in care, Zoom whitening systems represent the safest and most effective way to lighten and brighten your smile! With a Philips Zoom in-office whitening procedure in as little as a single visit—typically clocking in at under an hour—Zoom's innovative light-activated whitening system is able to whiten teeth a full eight shades brighter. The entire procedure, from start to finish, requires little beyond sitting comfortably back in the dental chair and is virtually absent of any risks or side effects.
As the number one patient-requested teeth whitening brand, Zoom provides patients with a range of whitening options that also includes highly effective home whitening systems. For patients who wish to learn more about the cosmetically pleasing results that can be achieved with Zoom whitening procedures, our office is happy to discuss every aspect of care and what type of treatment best suits your needs, lifestyle, and budget.
Smile Makeovers
By combining the art and science of dentistry, a cosmetic smile makeover can completely transform a smile that has been affected by lost, missing, damaged, stained or otherwise imperfect teeth into one that is both cosmetically appealing and functional. Armed with a comprehensive knowledge of dental aesthetics as well as the complex requirements of an optimally functional bite, our professional team will develop the most suitable treatment plan to achieve your cosmetic goals and to meet your expectations of care. Using the most advanced technology and the latest generations of the highest quality of dental materials, we will create a new and improved smile for you that is beautiful, healthy and will serve you well for many years to come.
Veneers
If your teeth suffer from gaps, chips, stains, or discolorations you may be a candidate for porcelain veneers, a highly effective and minimally invasive cosmetic procedure that can achieve beautiful results.
Porcelain veneers are thin facings custom-made of the highest quality ceramic materials that are designed to fit perfectly over the front of your teeth. One of the most conservative cosmetic treatments available, veneers can mask a host of dental imperfections to give you the smile that you have always wanted. Porcelain veneers not only enhance and improve the shape of your teeth, they are able to create an overall whiter and brighter smile.
One of the most appealing aspects of the process of fabricating porcelain veneers is that they involve minimal tooth preparation and take just a few visits. Porcelain veneers, once they are fabricated and fitted, are permanently bonded to the underlying teeth. The result is a naturally pleasing smile that is both strong and durable.
Restorative Dentistry
Implant Dentistry
Losing a tooth due to injury, dental decay, or gum disease can happen. However, in order to avoid causing problems for the adjacent teeth and your overall dental health, it is important to replace the tooth that has been lost. This can be done any number of ways including fixed bridges, removable partial or full dentures as well as a more recent procedure known as dental implants.
One of the most significant dental innovations in recent times, an implant is a small surgical fixture made of biocompatible metal or ceramic materials that is placed into the jawbone and functions in the same manner as the root of tooth. In the same way that natural root supports the natural crown of your tooth, an implant once it fully integrates with the surrounding bone, provides a stable and durable foundation for a replacement tooth. Implants often support a crown for an individual tooth, but can also be used as abutment teeth for a dental bridge, or strategically placed to help stabilize a denture.
Out of all the restorative choices available today, an implant comes the closest to replicating the look, feel and function of a natural tooth. Furthermore, it is the only method of tooth replacement that does not require the involvement or preparation of the adjacent teeth. A dental implant also stimulates bone remodeling to prevent shrinkage in areas where teeth are missing and helps to restore facial contours in areas where significant bone loss has occurred.
Dental Fillings
Dental Fillings are the most common type of dental restoration used to replace sections of teeth that are missing, damaged or decayed. While traditional dental materials like gold, amalgam, porcelain, and composite successfully restore teeth; recent advances in dental technology have made a wider and improved selection of restorative choices available. Some of the newest state-of-the-art filling materials, including ceramic and the latest composite materials, are not only strong and durable, they offer the most aesthetically pleasing and natural looking results.
Implant Supported Overdentures
When all the teeth in the upper or lower jaw are missing, dental implants offer comfortable, stable and cosmetically pleasing solutions to restore a functional smile.
An implant-anchored overdenture is essentially a removable denture that clips on to either a ball or bar attachment in the front part of the jaw. The implant supported attachments help to provide added stability to the denture, keeping it in place to ensure optimal comfort as well as function. Because the dental implants keep the denture from slipping or dislodging, there is no need to deal with any messy denture adhesives.
Dentures
Whether from disease, malnutrition, genetic disorders or an accident, it is occasionally necessary for patients to have some or all their upper and lower teeth extracted. While this can be upsetting news, partial or full dentures can be fabricated to restore an attractive smile, provide needed support for normal facial contours, and reestablish a highly functional occlusion.
A denture consists of natural looking artificial teeth set in a supportive base. It may be fabricated to replace either a small group of teeth, an entire upper arch, an entire lower arch, or used to restore both dental arches.
A complete denture refers to the replacement of all the teeth in a dental arch. It can be inserted either of two ways. It can be inserted some weeks after the extraction sites and other surgical procedures have had a chance to heal, or as an "immediate" denture placed the same day the last remaining teeth are extracted. Although an immediate denture offers the advantage of not having to go without teeth for any length of time, it can require multiple adjustments as the tissues remodel and heal following dental extractions or other surgical procedures.
In situations where some sturdy teeth remain, partial dentures can be fabricated. Partial dentures can achieve adequate retention and stability by having clasps on the teeth surrounding the edentulous areas.
In some cases, added stability for the dentures can be provided by strategically placed implants.
Ceramic Crowns
When the natural structure of a tooth has been extensively damaged or compromised due to dental decay, damaged fillings, root canals, or habitual clenching or grinding of the teeth, a dental filling may not be adequate for its repair. In such cases, dental crowns, also commonly referred to as caps, are recommended to effectively restore the natural integrity, function, and appearance of the affected tooth.
Out of all the materials that are available today for a full coverage restoration, metal-free crowns, also known as all ceramic crowns, offer the most lifelike and biocompatible results. Strong and durable, ceramic crowns are lighter in weight than dental crowns that incorporate a metal substructure and are also kinder to the surrounding soft tissues. Furthermore, ceramic crowns present no problems for individuals with sensitivities to various metals. Since they are fabricated of the highest grade of dental ceramics, ceramic crowns most closely approximate the natural translucency of your own teeth.
Custom fabricated for the optimal health and aesthetic of a patient's smile, ceramic crowns can also be indicated for an array of dental treatments, ranging from the cosmetic restoration of discolored teeth, to the coverage of a structurally damaged tooth, dental implant, or as the supporting ends of a dental bridge.
Dental Bridges
When teeth are missing, a series of changes that can impact your overall dental health and jaw function may begin to develop. The adjacent teeth may start to drift or tilt into the space, and teeth in the opposing jaw may start to shift toward the area of the missing tooth. It is therefore important to replace either the single tooth or multiple teeth that are missing from this area. One of the best options to prevent the consequences of shifting teeth and to restore full function to a small edentulous section in the mouth is a dental bridge.
A dental bridge replaces the missing teeth with artificial teeth called "pontics," and is supported on the ends by prepared natural teeth. Once fabricated and fitted a dental bridge will be permanently "fixed," or cemented into place. Like crowns, bridges can be made of either porcelain baked on to a metal substrate or many of the new ceramic materials that have been developed.
Inlays And Onlays
In certain cases inlays and onlays are recommended as alternative restorations to amalgam or tooth colored fillings. Known as indirect fillings, since they are fabricated outside of the mouth, inlays or onlays can be made from either gold, porcelain or resin materials. The material selected depends upon the exact requirements of the individual case. Inlays/onlays are individually fabricated restorations that are designed to precisely fit the excavated and prepared area of a tooth that has been damaged by decay or other injury. While an inlay is used to restore the central portion of a back tooth, an onlay is a larger restoration that extends out over one or more cusps of the tooth. In certain cases an onlay can cover and support enough tooth structure to avert the need for a full coverage dental crown. Once the fit of the custom made inlay/onlay is checked, it is permanently cemented or bonded to the underlying prepared tooth structure.
Periodontal Treatment
Periodontal Treatment
Periodontal disease damages the surrounding soft tissues and bone that support the teeth. It is predominantly caused by the accumulation of bacteria, mucus and other particles in the form of plaque or tartar that sit between the teeth and the gums. Periodontal disease can range in severity from a simple gum inflammation, known as gingivitis, to a more serious inflammation of the periodontal tissues. Left untreated periodontal disease can result in significant tissue damage and eventual tooth loss.
The problem with periodontal disease is that often the progression is painless. As a result the affected individual may not be aware of an ongoing disease process. This is why it is so important to recognize the signs of the earliest stage of periodontal disease, which is gingivitis. The symptoms of gingivitis typically include red, swollen and bleeding gums. Treatment instituted at this point is often sufficient to reverse the course of the disease and to avoid any permanent damage to the periodontal tissues. A series of deep dental cleanings, an improved home care regimen, and a commitment to regular maintenance may be all that is required to prevent this stage of periodontal disease from progressing.
Left untreated, gingivitis can escalate into periodontitis. However, there are other factors that can contribute to the escalation of periodontal disease, including smoking, genetic tendencies, and unchecked diabetes. In either case, when periodontal disease has progressed to a more advanced stage there is usually clinical and radiographic evidence of damage to the bone and soft tissues supporting the teeth. Periodontal treatment in this phase is designed to halt the progression of the disease and to restore tooth support as possible. This may involve medications to control the bacteria and reduce the size of the pockets between the teeth and gums, gum surgery, as well as bone and tissue grafts.
Deep Cleaning
By performing a deep cleaning, which is also known as a scaling and root planing, we can remove any excess buildup of plaque and tartar that has accumulated around your teeth in the area below the gumline. The goal of this procedure is to treat periodontal disease by eliminating inflammation and reducing the size of pockets between the teeth and gums. While a dental scaling is intended to carefully eliminate any accumulated deposits on the surface of the tooth below the gumline, a root planing goes deeper to smooth the surface of the root so that the gums can properly reattach and heal.
Our professional team will determine how many visits your scaling and root planing will require and how many sections of your mouth will be addressed at each appointment. Deep cleanings, coupled with an excellent regimen of oral hygiene at home, can be effective in restoring periodontal health as well as for maintenance care following the treatment of gum disease.
Frenectomy
A frenum (also known as a frenulum) in the oral cavity is a fold of tissue connecting moveable soft tissue such as the lips, cheeks or tongue to the fixed tissues next to the teeth and floor of the mouth. This fold of tissue can contain some muscle fibers as well.
The major frena in the mouth can be found in three locations. The first is the maxillary labial frenum located on the underside of the middle of the upper lip, connecting it to the gum tissue above and between the front two teeth on top. Another frenum is the mandibular labial frenum, which is located on underside of the lower lip connecting it to the gum tissue below and between the front two teeth on bottom. The third is the lingual frenum, which is found on the underside of the tongue connecting it to the floor of the mouth.
In most cases these frena do not adversely limit tongue function, or affect the teeth or their surrounding hard and soft tissues. However, there are situations where they do and a surgical procedure is required to alleviate these problems. A maxillary labial frenectomy is the most common one performed, and is considered when a large and ropey frenum is attached too close to the crowns of the teeth or extends too far towards the roof of the mouth. Issues with the maxillary frenum can cause space between the two front teeth, keeps the teeth apart, and can even affect the gums and bone between the front two teeth. A lingual frenectomy is considered when the lingual frenum attaches too far forward on the tongue and is impairing function including, speech, swallowing or eating.
When an abnormal frenal attachment is present, certain surgical procedures like a frenectomy to remove a portion of the frenum can be performed. This surgery prevents further tissue damage, allows for appropriate tooth movement and stability, and restores normal function.
Orthodontics
Aligners
While some people are fortunate enough to have a naturally well-aligned smile, many are faced with teeth that are crowded, gapped, rotated, or otherwise incorrectly positioned. We want every patient to enjoy the benefits of a healthy and beautiful smile. Although bulky orthodontic appliances were once a common sight, getting braces today doesn't mean your only choice is treatment with conventional brackets and metal wires. Thanks to advances in care, it's possible to discreetly, conveniently, and comfortably improve the look and function of your smile clear orthodontic aligners.
Discreet, Convenient, & Comfortable Care
With clear orthodontic aligners, no one will even notice that you're receiving orthodontic care! Based on the exact specifications of your smile, you'll receive a prescribed series of aligners that, throughout treatment, gently and incrementally move your teeth into their correct positions. As you change aligners every couple of weeks, you'll see your teeth becoming straighter and straighter. Among the many benefits offered by clear aligners is that they are also completely removable, which allows you to brush and floss with ease and to enjoy your favorite foods as before.
For more information on aligning your smile with this remarkable system of care, or if you'd like to hear more about the many services that we provide, give us a call today!
Retainers
Preserving and stabilizing the result of your orthodontic treatment is known as "retention" and the appliances used for this purpose are called "retainers". Almost every individual who has undergone orthodontic care will need to wear some type of a retainer.
There are two major kinds of orthodontic retainers. A removable retainer is one that can be taken in and out of the mouth, while a permanent retainer is fixed or bonded to the back of the teeth. Before removing your braces our orthodontist will explain which of the available retainer options you will need to maintain your smile.
Removable retainers come in two forms. A Hawley retainer is the most traditional orthodontic retainer. It is typically an acrylic based appliance with a single wire that sits in front of the teeth to maintain the corrections along with some small clasps to stabilize it in the mouth. The other type of removable retainer is a vacuform "invisible" retainer, which is called an Essix retainer. This retainer looks similar to a clear custom bleaching tray or dental aligner. It is made of a thin transparent plastic that is fabricated to precisely fit over the teeth and prevent any unwanted shifting. While a Hawley retainer has the advantages of being quite durable and easy to adjust, an Essix retainer is less visible and can be easier to adapt to wearing.
In some cases a fixed retainer may be recommended to maintain a corrected smile. A fixed retainer is a special thin wire that is bonded to the back of the front teeth. It remains in place all of the time and does not show at all when you smile. This type of retainer is a good option when there's a high risk that teeth could revert to their former position, especially the lower front teeth. A fixed retainer provides excellent stability, but requires extra care to keep the teeth and gums around the appliance clean.
At the time your retainers are inserted, we will provide you with detailed guidelines for wearing these appliances as well as directions as to how to clean and care for them.
SureSmile®
SureSmile® invisible braces offer an alternative to traditional braces so you can show off your smile with confidence throughout care. SureSmile straightens teeth using a series of clear, custom-made, removable aligners that incrementally move the teeth a little bit at a time, eventually aligning the teeth to improve the look and function of your smile.
SureSmile can be used to treat:
Crowded teeth
Spacing between teeth
Overbites
Underbites
Crooked or turned (rotated) teeth
Designed with aesthetics in mind, SureSmile aligners are custom fitted to your teeth to provide an irritation-free treatment, with nearly no adjustment discomfort. Unlike traditional braces, SureSmile aligners are barely noticeable and won't hinder your ability to perform routine oral hygiene tasks or interfere with eating and speaking.
Clear Correct aligners are made from a BPA-free and durable material called Zendura that is specially designed to withstand the stresses of oral function – meaning that the aligners are resistant to becoming deformed under biting pressure.
With SureSmile, achieving your ideal smile is easy and effortless. Plus, since your clear aligners are removable, you can take them out to brush, floss, and eat your favorite foods. SureSmile fits your life and daily routine as perfectly as it fits your teeth, so you don't need to change a thing.
Oral Surgery
Extractions
Implant Dentistry
Losing a tooth due to injury, dental decay, or gum disease can happen. However, in order to avoid causing problems for the adjacent teeth and your overall dental health, it is important to replace the tooth that has been lost. This can be done any number of ways including fixed bridges, removable partial or full dentures as well as a more recent procedure known as dental implants.
One of the most significant dental innovations in recent times, an implant is a small surgical fixture made of biocompatible metal or ceramic materials that is placed into the jawbone and functions in the same manner as the root of tooth. In the same way that natural root supports the natural crown of your tooth, an implant once it fully integrates with the surrounding bone, provides a stable and durable foundation for a replacement tooth. Implants often support a crown for an individual tooth, but can also be used as abutment teeth for a dental bridge, or strategically placed to help stabilize a denture.
Out of all the restorative choices available today, an implant comes the closest to replicating the look, feel and function of a natural tooth. Furthermore, it is the only method of tooth replacement that does not require the involvement or preparation of the adjacent teeth. A dental implant also stimulates bone remodeling to prevent shrinkage in areas where teeth are missing and helps to restore facial contours in areas where significant bone loss has occurred.
Crown Lengthening
Crown lengthening is a common procedure that is routinely performed to re-contour gum tissue and bone, as needed, with the intent of making more tooth structure available for the placement of a dental crown or dental bridge. This is often the case when a tooth is decayed or otherwise damaged below the gum line.
Alternatively, a crown lengthening procedure can also be performed for reasons that are purely aesthetic to reduce the appearance of a "gummy smile" when too much of the gums and far too little tooth structure is displayed when smiling. It can be performed on a single tooth to make the gum line appear even with the other teeth or on several teeth to improve a smile's overall appearance
Bone Grafting
In cases of periodontal disease, an osseous grafting procedure may be necessary to address the bony defects around a tooth that have been caused by the progression of periodontal disease. An osseous grafting procedure, which involves guided tissue regeneration, rebuilds the bone and supporting tissues that have been lost. During this surgical procedure, the roots of the involved teeth are thoroughly cleaned and the bony defects prepared and filled with a suitable bone graft material. The bone graft is then covered by special membrane and the gums are then sutured back into place. With healing and time the osseous graft will fill in for the lost bone, thereby providing renewed support for the tooth.
Sleep Apnea
Sleep Apnea
Sleep apnea is a serious and potentially life threatening disorder involving repeated pauses in breathing while asleep. The most common form of this condition is obstructive sleep apnea. This occurs when there is an obstruction of an individual's airway that interferes with the flow of oxygen through the nose or mouth during sleep. In someone afflicted with obstructive sleep apnea, the muscles of the throat and mouth relax during sleep to the point where they fall back into the upper airway and create a blockage that restricts breathing.
The signs and symptoms of this disorder during sleeping hours may include, loud snoring, episodes of breathing cessation, abrupt awakenings, episodes of gasping for air, along with difficulties getting a good night's sleep. An individual with sleep apnea will exhibit problems during the day as well. Sleep apnea can lead to a morning headache, excessive daytime sleepiness, difficulty concentrating, and irritability.
A sleep study is typically conducted to determine the severity of the disorder. The results of this study along with other medical findings will play a role in determining the recommended therapy. The most common form of therapy is a CPAP machine that is worn when sleeping. This device provides a steady stream of pressurized air into the respiratory system through a mask.
In situations of mild to moderate sleep apnea, a dental appliance may be deemed the appropriate treatment. Worn in a similar fashion to a mouthguard or an orthodontic retainer, it is designed to help keep the tongue and soft tissues in the back of the throat from collapsing, thereby enabling the airway to stay open during sleep. An oral appliance is easy to wear, easy to care for, comfortable, and portable. Oral appliances are individually fabricated, and customized for both maximum effectiveness and comfort.
Laser Dentistry
Laser Dentistry
One of the significant advances in modern dentistry has been the development of dental laser technology. Today, dental lasers are being increasingly used to treat tooth decay, periodontal disease, perform biopsies or the removal of oral lesions, to cure restorative (filling) materials, as well as to activate in-office teeth whitening systems.
Dental lasers combine laser energy with water and air to safely cut and shape target soft or hard tissues in the mouth. Laser energy precisely cuts through tooth structure by exciting the water molecules in the tooth. It operates without direct contact to the tooth without heat, vibration, or pressure thereby minimizing the discomfort of the procedure and the need for dental anesthesia. In addition dental lasers can reduce anxiety for patients fearful of dental work, minimize post-operative bleeding and swelling, and preserve healthy tooth structure during the removal of decay.
While dental lasers may be an excellent treatment option in some situations, they cannot be used for every dental procedure.
Emergency Treatment
Emergency Treatment
A dental emergency can arise for many reasons. It may be due to a traumatic oral injury, a cracked or fractured tooth, extensive tooth decay, a broken filling, periodontal abscess, dental infection, problematic wisdom tooth, or a painful soft tissue lesion- just to name a few. Whatever the case may be, it's always a good idea to get a timely evaluation and prompt care. If left untreated, dental problems often worsen, leading to more serious consequences to your oral health and overall well-being.
And, while painful dental problems are typically the reason for an urgent dental visit, we also provide prompt care for broken dental appliances or dentures and dislodged crowns, which are frequently more unsightly and inconvenient than uncomfortable.
We provide state-of-the-art care for a wide range of dental problems to help get you back on the road to oral health!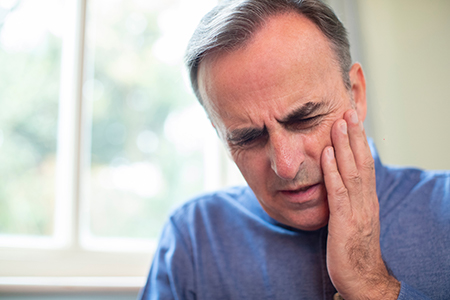 Toothaches
Pain is your body's way of signaling that something is not quite right and though there are many reasons for oral pain, one of the most common complaints and reasons for seeking urgent dental care is a toothache. Whether you simply need a filling, a crown, or require a root canal procedure to save your tooth, we'll alleviate your discomfort and restore the look and function of the involved tooth.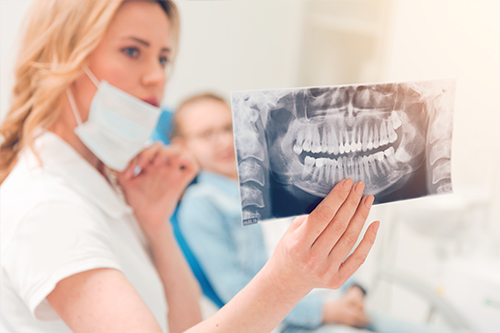 Dental Trauma
Dental trauma can result in a defect as minor as a small chip in tooth enamel to a more extensive and painful crack or fracture. With sufficient force, a tooth can even be displaced or completely knocked out of its socket. With prompt emergency care, many injured teeth can be restored and saved.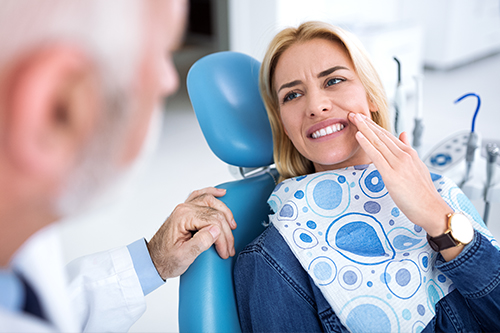 Wisdom Teeth
The last teeth in your mouth to develop, wisdom teeth often do not have enough room to fully erupt or may be positioned in the wrong direction. These issues can affect your dental health as well as overall well-being. Our office provides skilled care to address the complications caused by problematic wisdom teeth.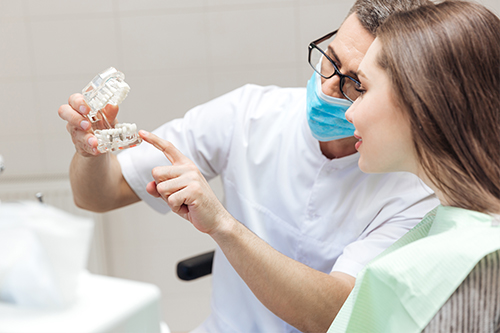 Broken or lost dental appliances
A broken or lost dental prosthesis or restoration can cause embarrassing gaps in your smile as well as compromise your ability to eat and speak with ease. If you've lost or broken a dental filling, denture, crown, or other dental appliance, you can rely on our office to perform a prompt repair or provide a durable and cosmetically pleasing replacement as quickly as possible.
Your health and comfort are our top priorities!
If your dental emergency is painful, if it affects the appearance of your smile, or if you suspect that an infection is present, our office will make every effort to see you as soon as possible for care. While emergency dental care is a service we hope you'll never need, you can rest assured that your oral health is in the best of hands at our office!
Root Canals
Root Canals
Endodontics, or root canal therapy, is employed when the nerve supply to a tooth has been irreversibly affected by damage or decay. It is a way to prevent or help resolve a dental infection and save a natural tooth from extraction. A root canal is performed when there is enough sound root and crown structure remaining to eventually restore form and function to the involved tooth.
Inside every tooth is either a single central chamber or multiple ones that contain connective tissue, a nerve supply, and blood vessels. These core tissues, known as the dental pulp, help your tooth to grow and mature before it emerges into the mouth. A root canal procedure is required when this dental pulp is irreversibly damaged or has died.
Root canal therapy involves cleaning and shaping each canal, and then filling them with a special inert material. Following this they are sealed to prevent any subsequent infection. Once root canal therapy has been completed, the tooth should be fully restored as recommended.
Technology
CBCT
Cone-beam computed tomography systems are radiographic systems used by dental professionals to analyze and reconstruct 3D images of a patient's teeth, jaws and surrounding anatomy. The information obtained by means of CBCT imaging is useful in both diagnosis and precise treatment planning when two-dimensional diagnostic films are insufficient. Dental CBCT is useful for multiple types of analyses as well as the assessment of maxillofacial disorders or pathology. It is also most useful in surgical planning, including the accurate placement of dental implants.
CEREC® Crowns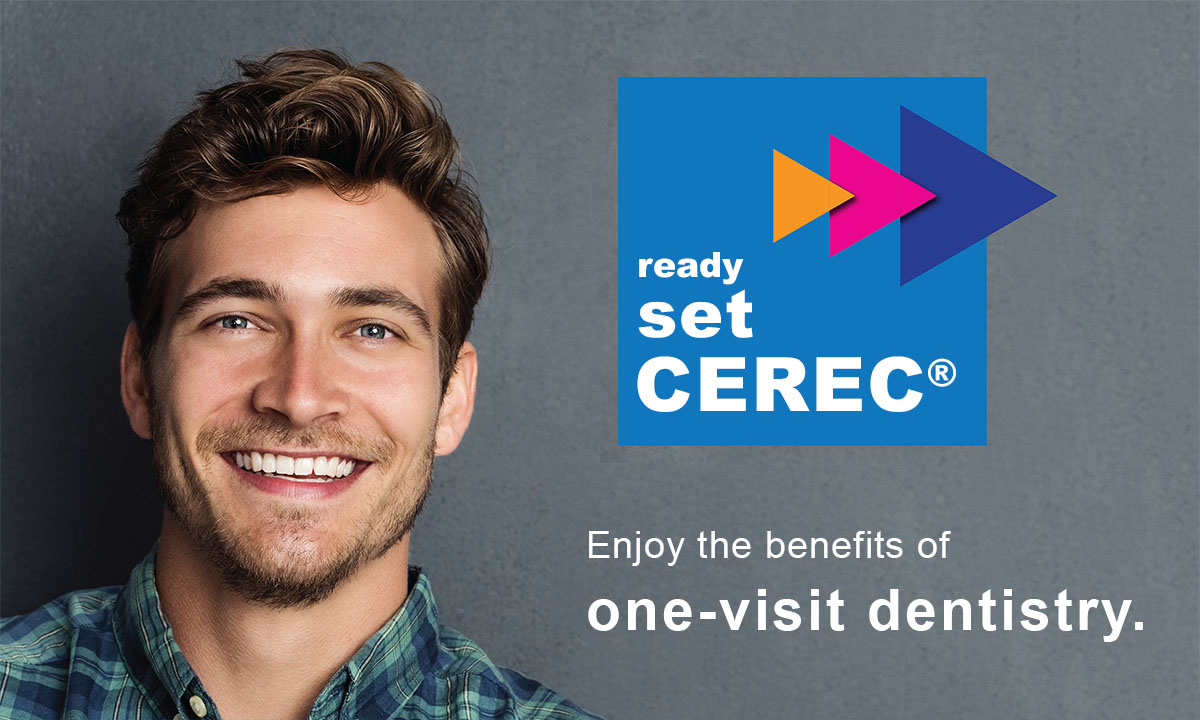 CEREC® offers convenient, faster and more comfortable care to provide a range of high-quality, same-day restorations including ceramic crowns, inlays and onlays.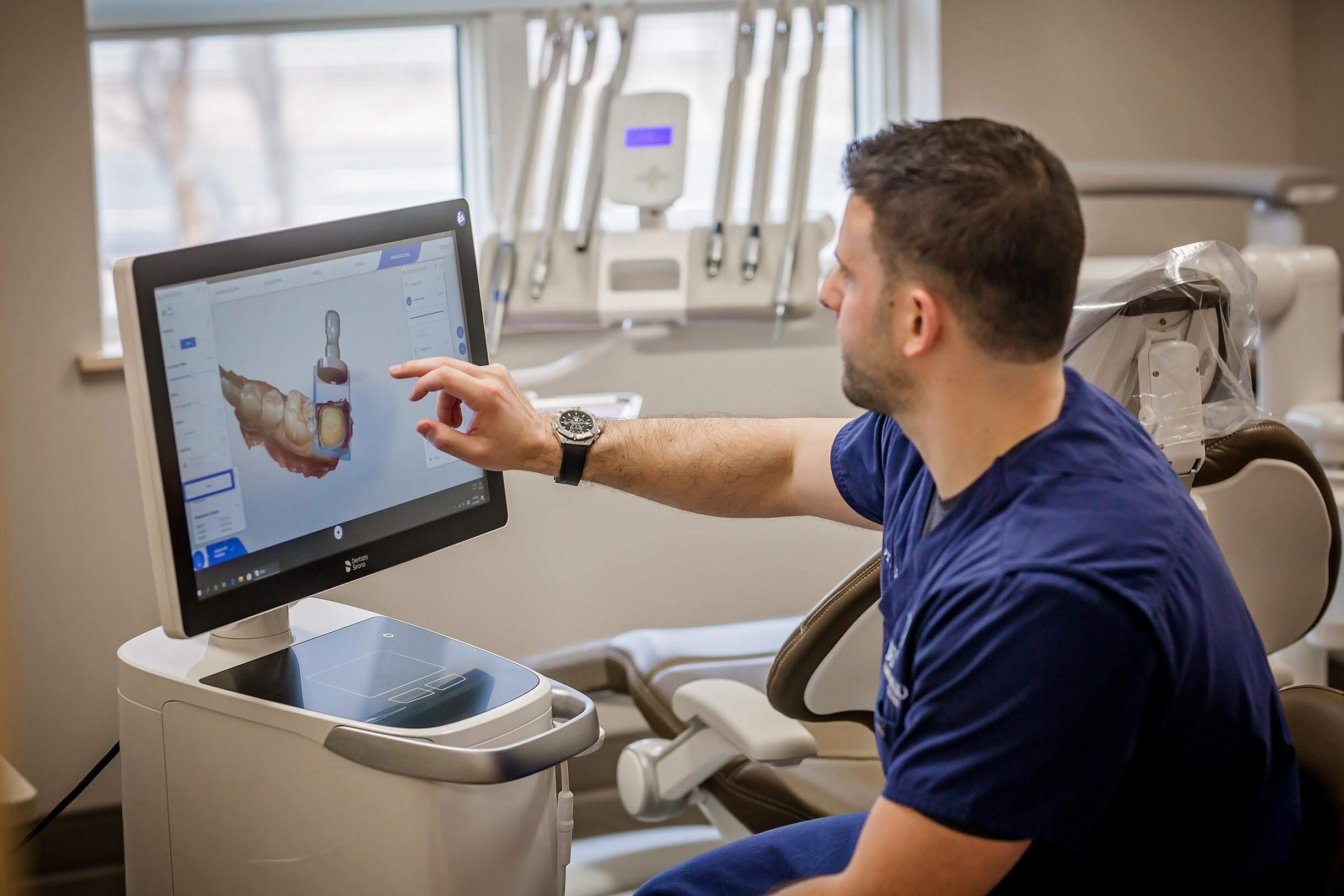 Enjoy the Benefits of a Beautiful Smile in Just a Single Visit!
CEREC® offers convenient, faster and more comfortable care to provide a range of high quality same day restorations including ceramic crowns, inlays and onlays.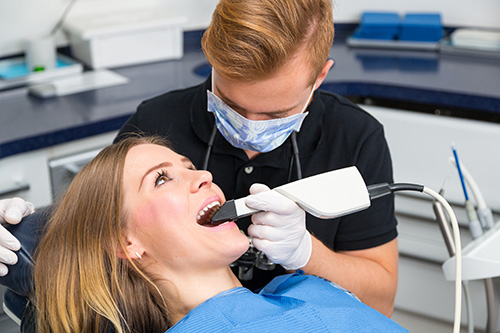 Single Visit Crowns and Restorations
In just one appointment you can have a naturally beautiful restoration to enhance the beauty and function of your smile. With CEREC® there is no need for multiple office visits, messy dental impressions, a temporary crown, or waiting weeks for your dental work to come back from the laboratory. Your new restoration is designed and customized to the exact specifications of your smile all in the very same day!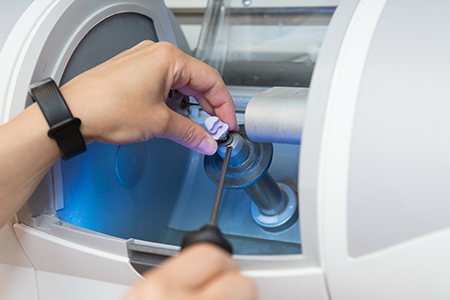 How Does it Work?
CEREC® is an advanced method of care, which allows for the preparation and placement of same day ceramic restorations. Offering the utmost in terms of quality and convenience, this high-tech system utilizes CAD/CAM technology, or computer aided design and computer aided manufacturing to make every step of the restoration process more patient-friendly and precise. Using an ergonomically designed intraoral scanning wand in place of a conventional dental impression, the dentist is able to capture detailed 3D images of the prepared tooth and surrounding dentition. These images are then integrated by an advanced computer software program to produce an accurate model and plan a precise fitting, functional, and cosmetically pleasing restoration. As soon the restoration is designed and approved by the dentist, the information is sent wirelessly to a chairside milling machine where a ceramic restoration is fabricated as the patient waits.
Naturally Beautiful and Long-Lasting Restorations!
A CEREC® single visit crown offers much more than a convenient approach to getting a dental crown. It is a high quality, naturally beautiful, extremely durable and long-lasting dental restoration!
Digital Impressions
By using intra-oral optical scanning devices, the need for patients to have a messy conventional dental impression taken of their teeth is eliminated. Digital optical impressions enable the dentist to more efficiently and effectively obtain an accurate computer generated representation of their patient's teeth along with the surrounding tissues. In addition to being much more comfortable for the patient, a digital impression eliminates the need for the dentist to either create a stone model from the impression, or to mail the impression directly to the laboratory for any type of work to be done. Digital impression information is transmitted electronically, significantly reducing the turnaround time of any needed outside laboratory work. Digital impressions are also integral to systems that produce same day, in-office ceramic restorations.
Digital Radiography
Digital radiography utilizes computer technology and digital sensors for the acquisition, viewing, storage, and sharing of radiographic images. It offers several advantages over the older traditional film based methods of taking x-rays. The most significant of these advantages is that digital radiography reduces a patient's exposure to radiation. Other benefits are that images can be viewed instantly after being taken, can be seen simultaneously as needed by multiple practitioners, and can be easily shared with other offices. Digital x-rays are also safer for the environment as they do not require any chemicals or paper to develop.
An electronic pad, known as a sensor is used instead of film to acquire a digital image. After the image is taken, it goes directly into the patient's file on the computer. Once it is stored on the computer, it can be easily viewed on a screen, shared, or printed out.